Antminer DR5 (35 th/s)
Reference:
BITMAIN ANTMINER DR5, Blake256R14 – Decred
*Your order is only final after we confirmed it by sending the invoice.
*Order without VAT (0%) with a EU company VAT number or by ordering from outside EU
*The price of mining machines must be adjusted frequently according to many factors, including cryptocurrency/USD exchange rate, the network difficulty, expected difficulty, stock availability or changes in the algorithm. Refund requests based on these factors cannot be honored.
*We offer up to two years warranty instead of 180 days.
*Best EU pricing available!

Antminer DR5 Specifications:
Detailed Characteristics
Value
Min
Typ
Max
Hashrate & Power
Hashrate, TH/s
Normal
Lower Power
35.00
25~26.00
35.95
+3%(1-1)
Power efficiency on wall @25℃, J/TH
Normal
Lower Power
46.00
40.00
49.22
42.80
Power efficiency on wall @40℃, J/TH
Normal
Lower Power
47.53
41.42
50.86
44.32
Power on wall, Watt (1-1)
Normal
Lower Power
1610
1000
1828
1187
Power supply AC input voltage, Volt 

(1-2)

200
220
240
Power supply AC input current, Volt 

(

1-3

)

Normal
Lower Power
7.32
4.55
9.14
5.94
Power supply Input AC Frequency Range, Hz
Normal
Lower Power
47
50
63
Hardware Configuration
Networking connection mode
RJ45 Ethernet 10/100M
Miner Size (Length*Width*Hight, w/o package), mm (2-1)
238*178*297
Net weight, kg  (2-2)
7.75
Noise, dBA @25℃

  (2-3) 

76
Environment Requirements
Operation temperature, ℃
0
25
40
Storage temperature, ℃
-40
25
85
Operation humidity, RH
5%
95%
Notes
The Antminer DR5 comes with power supply included.
The power supply doesn't come with a power cord. Please find a powercord with at least 10A from your local market.
Please kindly note that the required input voltage for DR5 is 220V.
The shipping costs for this unit is €25,- in the EU zone. Shipping costs outside EU zone is on request.
Notes:
(1-1)       In Low Power Mode, Max Hashrate should be Typ hashrate *103%
(1-2)      Min condition: 25°C, min J/TH, typical hashrate Max condition: 40°C, max J/TH, max hashrate
(1-3)      Caution: Wrong input voltage may probably cause miner damaged
(1-4)       Typ condition: min reference power, typical AC input voltage Max condition: max reference power, min AC input voltage
(2-1)       Including PSU size
(2-2)       Including PSU weight
(2-3)       Max condition: Fan is under max RPM(rotation per minute).
Antminer DR5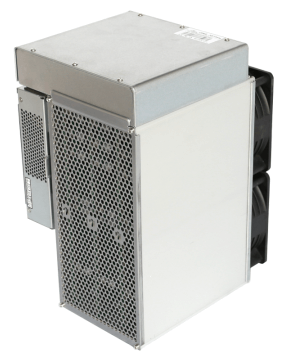 Antminer DR5 back right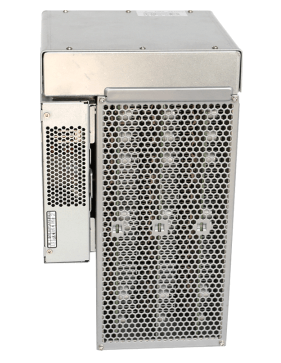 Antminer DR5 back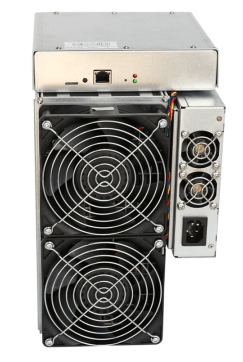 Antminer DR5 front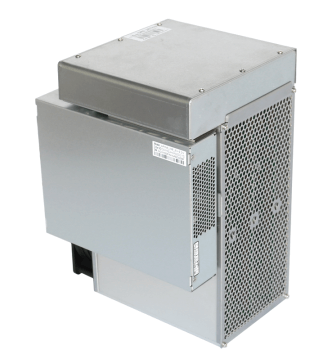 Antminer DR5 side PSU
1. The payments for Orders are accepted in US Dollars or Eur or BTC. 
Do upload the bank proof of transfer within 48 hours. if paid with bank transfer, if not, you can continue to pay with coins or additional payment methods, these are automaticly authenticated. 
2. The shipping cost, customs charges and taxes (if any) are not included in the retail price shown above.
3. Please fill your desired quantity, shipping address and select your preferred shipping service while placing an order to learn the shipping cost to your shipping address.
4. Special Provision: After an order has been submitted, a request to cancel the order, refund any part of the ordered amount or change the ordered item(s) to different items(s) or different batch(es) WILL NOT BE ENTERTAINED by Bitmain. We advise you to make any purchase only after consideration.
5. To get a fast response from our team for any order or sales related inquiries please send us an email
6. The unit price and total price of the products, the amount paid by you shall be all denominated in EURO.
Please DO NOT place your order with anyone or anybody claiming to be an official Bitmain representative over email or Skype. It can be a scam and your confirmed order may never be delivered in such cases. Bitmain is neither responsible for nor offers any kind of compensation in such cases.
NOTE: The price of cryptocurrency mining machines has to be adjusted frequently in accordance with variables like the exchange rate of the cryptocurrency with fiat, the cryptocurrency's network difficulty, or the expected difficulty increase. Refund requests based on price changes WILL NOT be honored
1. A 365-day warranty is provided starting from the shipping date. To avail this warranty a repair ticket must be generated by the customer on Bitmain's website. Overclocking the miner will void the warranty immediately.
2. The warranty only applies to the original purchaser who purchased the machine directly from Bitmain. Once the miner is resold warranty coverage becomes the responsibility of the re-seller.
3. All sales are final. No refunds will be granted. Defective miners can be repaired for free if they fall under the Bitmain warranty policy. After the warranty period, machines can be repaired at the cost of parts and labor.
4. We reserve the right to charge fees for repair Services under the following circumstances:
(1) Product with an expired warranty, including (i) the warranty of the Product has expired when the Repair Ticket is created ( as such date is indicated on this website); or (ii) the Product does not arrive at the service location within the time period described in Section 4.1.2 of this Policy, and the warranty of the Product has expired when the Product arrives at the service location.
(2) Voided warranty due to:
Product damage caused by improper installation, use and maintenance;

Product damage or failure caused by dropping, accident, theft, abuse, negligence, improper operation;

Product damage caused by physical interference, including but not limited to, moisture, fire, flood, lightning, transportation, and extreme environment;

The entire Product, the board, or components of the board are crushed, broken, burnt, dropped, damaged due to improper operation;

Product damage caused by overvoltage or undervoltage or leakage;

Product damage caused by significant higher or lower ambient temperature exposure;

Product damage caused by humidity, oxidation, corrosion and short circuit to the Product, units or any part thereof;

Product damage or loss caused by natural disasters, including, but not limited to, floods, lightning, fires, earthquakes, tsunamis and lightning strikes, etc.

Disassembly or alteration of Product by any person other than us or an authorized service provider of us;

Product damage or failure caused by the use of power supply, parts or units which are neither supplied by us nor our authorized providers;

Unauthorized changes on firmware and hardware;

Product damage or failure caused by the use of unauthorized firmware or drivers, including but not limited to firmware that enables users to apply an over frequency setting;

Product damage resulting from non-commonality and/or incompatibility with current and/or future versions of operating systems, software and/or hardware;

Damage or loss of data due to improper use;

Product without original barcode or SN label or which has been altered, defaced or removed;

Mixed boards: any or all of the hash boards or control boards in a Product are not the original parts of such Product, or anything preventing us from determining whether the hash boards or control boards are the original parts of such Product;

Direct operation of Product without being connected to drainage assemblies (applicable to Products requiring connection to drainage assemblies);

Daily wear and tear;

Any reason other than those caused by us that makes it impossible for us to diagnose whether the Product is under warranty.
(3) Product sent for Maintenance without proper packaging, including unpacked Product, Product without sufficient cushioning material, etc. For the suggestion of proper packaging, please refer to the website: 《Packaging Recommendations for Returning Antminers for Repair》
5. For all repairs or RMA, within warranty or not, customer must return the defective parts at his/her own expense after opening a support ticket and troubleshooting with Bitmain's instructions.
6. Bitmain will cover shipping cost when shipping a replacement unit within the warranty period.
7. If you notice there are some loose heatsinks when you receive the miner, please inform us by email to [email protected] within 3 days from the date the package is received according to UPS/DHL/FEDEX's website.
8. Bitmain does not take any responsibility for or compensate for any loss as result of downtime caused by delays in transportation as a result of custom formalities or other reasons.
Please read Bitmain's Terms & Conditions for a complete list of conditions and terms that apply to all orders placed on Bitmain.com